Attention:
New boating regulations effective July 1, 2018 require boat renters to have boaters license for those born on or after 1/1/1989. Please call to discuss your options, and find out more details
here
.
Boat & Cabin Rentals at Center Hill Lake
More than a destination, Hidden Harbor Marina is your resort for outdoor fun on Center Hill Lake. You can stay in one of our comfortable cabin rentals, or go camping at one of our campsites for a more intimate relationship with nature. Experience the fun of boating, water skiing, and fishing on one of Tennessee's most beautiful lakes. We serve the area with our fleet of pontoon boat rentals, deck boat rentals, fishing boat rentals and houseboat rentals. Whether you like a fun, fast-paced vacation or a more relaxing getaway, Hidden Harbor Marina is the perfect place for you. To reserve a boat or cabin, call (615) 597-8800, request a quote, or book online now.
Renting a boat adds a new element of relaxation to vacations. Whether you'd like to water ski with a deck boat, socialize on a pontoon boat, or try a getaway weekend aboard one of our houseboats – we have you covered! If you prefer to fish, our fishing boats are equipped with quality fish finders for exploring Center Hill Lake's wealth of fish.
View Boats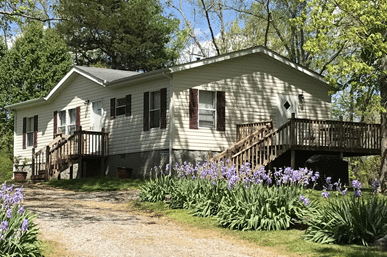 Our well-maintained cabin rentals at Center Hill Lake are a real retreat from the busyness, constant demands, and chaos of life. Set aside a whole week or an entire weekend, and come visit our comfortable hideaways, complete with air conditioning, TV, DVD player and several other modern amenities. You will never have a more relaxing vacation.
View Cabins
Experience the sheer and utter beauty of Hidden Harbor Marina first-hand at Lake Center Hill camping! Featuring both charming, rustic campsites and more modern campsites with complete accessibility to water and electricity available, we have something for everyone. All of our campsites are conveniently located near Center Hill Lake.
View Camping Sites
Why Choose Hidden Harbor?
Large fleet of quality rentals
Competitive Pricing
Calm, quiet atmosphere on the lake
Friendly Staff Members
Welcome to Our Marina & Campground
Center Hill Lake is located just one hour from Nashville and offers a temperate climate and over 400 miles of undeveloped shoreline. For over 30 years we have been a family-operated marina serving both local clients and tourists. We are proud to have been named in the 10 best boat rental companies in the state of Tennessee by Best Things Tennessee. We distinguish ourselves by treating each guest as family and providing personal attention coupled with a friendly, inviting atmosphere for all.
view directions
Join the Hidden Harbor Community
Whether you are looking to rent a houseboat for several days or spend the day on a pontoon boat rental or fishing boat rental, Hidden Harbor Marina will provide you with quality rentals and excellent customer service. You deserve a chance to relax, so call us at (615) 597-8800 and come enjoy nature at its finest. Request your quote, or book online today! We look forward to welcoming you to our community!